For several years now, in the hotels of the Romagna Riviera, special attention has been rediscovered for children, and everything that revolves around their world.
As for the hotel Stella del Mare, for over 50 years, children's needs have always been an integral part of our work, so we have never needed to "adapt", as happened for other structures. Our advantage is that we have always considered children's services as an important part of the stay at the hotel.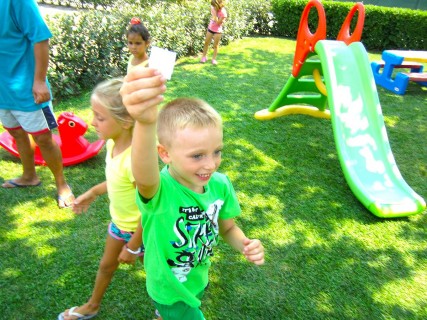 A stay with entertainment and fun for children, in complete safety
Our large equipped gardens, surrounded by hedges from which a private road leads to the sea, are ideal for children, because they can run or ride in total freedom and without the parents worry. All this is confirmed by the fact that, every year, more and more families choose the Stella del Mare hotel for their stay during the summer season, with children of all ages.
In addition to the special environment designed for children, we have the best solutions also in the bedroom, in the dining room, and in the kitchen, where every mother will have free access, and will be able to take advantage of everything she needs.
In recent years, the hotel has developed many activities to fill the stay of children, and often even parents enjoy themselves helping us. It is practically impossible not to make new friends, and meeting at our hotel automatically becomes a sort of appointment.
Treasure hunt
Absolutely free and definitely fun. A treasure hunt that takes place entirely in the gardens of our hotel, where children look for the treasure with enthusiasm, and then choose between lots of toys and prizes. Seeing children having fun is our greatest satisfaction, in addition to positive comments from parents after the events.
Safari in the Garden
A Safari in a vegetable garden? Why not. Take some children, load them on Vittorio's Ape and leave for the private garden adjacent to our hotel. A journey through vegetables, where every child collects one o two: whether it is a carrot, a courgette, a tomato, the important thing is instead the contact with nature, and the rural tradition that distinguishes us. At the end of the Safari, or when the basket is nicely full, the children will deliver it to Laura, who will take him to the kitchen.
Triathlon and Minichef
Tailor-made sports competitions, such as sack races, tug of war, and capture the flag. Everything takes place in the shade of our plane trees, with guaranteed fun and many prizes.
When hunger comes, here our children will transformed into minichefs: Laura prepares the dough and our little cooks make cookies, sweets, cakes and so on. Everything is then cooked and served with a good tea.
Many events, means many photographs, which you can of course request and receive by email or through digital media. Our events can also be found on our Facebook page!
The family hotel for your beach holiday
If you are looking for a quiet place to spend a beach holiday with your family, the Hotel Stella del Mare of Igea Marina is the perfect destination: your children can have fun and spend the days outdoors with lots of new friends! Contact us to request information for a stay in our hotel near the sea.